You are more than just your case
At the Law Offices of Christopher L. Peretti, you can expect to be treated like a person, and not just a name on a file. We recognize that each person is different and each individual's circumstances are unique. We take the time to hear your side of the story and find out the kind of person you are. When you hire our office, you will have an attorney who listens and understands your situation and your needs.
We understand that bad things happen to good people. Sometimes good people make mistakes. We know you are a better person than what the police report has made you out to be. Whether you have been falsely accused, subjected to illegal police action, or have found yourself in a regrettable situation, we can help you.

We use our clients strengths to our advantage
One of our most valuable assets at our firm is our clients. We use our clients character, integrity, and life stories to help shape the narrative of their cases.  At trial that means offering an alternative explanation of events more in line with the kind of person our client is.  Sometimes it means telling the prosecutor all the good things about our client in order to negotiate for a dismissal or reduction of charges. Other times it is demonstrating to a judge that our client is a person with a story, and not just another defendant accused of a crime.  Throughout a case, start to finish, we always use our client's character as a strength towards obtaining the best result.
Reasonable fees and flexible payment plans
We are proud to offer reasonable and affordable fees for the legal services we provide. All criminal and traffic cases are handled on a fixed-fee basis, with no extra costs or billable hours. We understand it costs hard earned money to hire an attorney and dealing with finances can be an additional stress. As such, we offer all our clients flexible schedule payment plans. Our office accepts cash, checks, money orders, and all major debit/credit cards.
Who we are and what we do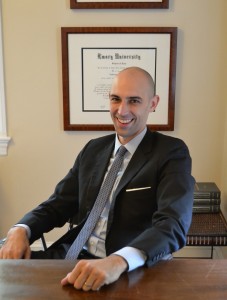 Our primary attorney, Chris Peretti, is an experienced trial attorney who has dedicated his career to defending those individuals who have found themselves facing criminal and traffic charges.
The Law Offices of Christopher L. Peretti is dedicated to passionately and aggressively defending the rights of individuals who are facing criminal or traffic charges in Prince George's County, Montgomery County, Baltimore, Annapolis, and throughout Maryland and the District of Columbia. We strive to provide high quality and individually focused legal services to all our clients.
Contact us today at 301-875-3472 and receive the type of individualized attention and care that you as a person deserve.
Click here to make a secure credit/debit card payment online.
Law Offices of Christopher L. Peretti
6220 Rhode Island Avenue
Riverdale, Maryland 20737
301-875-3472